Building Automation for Hotels
Energy Saving  
Vimar's latest devices are designed to automate hotels and make them smart.  
In fact, their smart technology avoids unnecessary energy wastage, turning off lights, air conditioning, and other loads when the guest is not inside the room. 
Comfort  
Stylish displays indicate if the room is free or occupied, so guests are not unnecessarily disturbed. Automated lighting enhances the guest's accommodation experience. 
Design 
Like all other Vimar products, these innovative solutions have been designed with meticulous care, down to the smallest detail. 
Their sophisticated details and the use of exclusive materials ensure they stand out as a design feature of the space. The user experience is unique, thanks also to the perfectly matched styling and endless customisation possibilities. 
Eikon Tactil KNX for Vertical Installation 
Another innovation is the Eikon Tactil transponder reader, incorporating KNX technology, which is now available for vertical installation. This device teams design with functionality. 
 
A room number can be applied to the new Eikon Tactil glass cover plates (using internal labels in mylar) featuring backlighting with RGB LEDs, for easy identification, even in the dark.  
The room number style and backlight colour can also be customised and amended after installation is complete.  
Immediately eye-catching, Eikon cover plates boast a smooth and bright glass surface which, for the new transponder reader, is available in three different plate glass finishes: white diamond, black diamond and acqua. 
 In terms of connectivity, the KNX interface also guarantees a consolidated standard which is growing popular in the world of building automation. 
Stand-alone Devices 
Electronic Control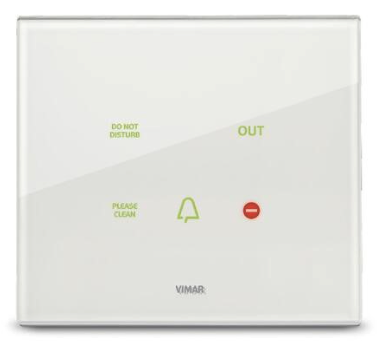 This electronic controller won the prestigious DAME Design Award 2018. 
It is a blend of design and technology. Fitted with RGB LEDs that light up the customisable icons, it can interface with third-party automation systems, allowing the control of lights, roller shutters, curtains, and any other function, while bringing all the elegance of Eikon Tactil to settings such as hotel rooms, offices or boat and yacht cabins. 
Name Label to Customise the Doorbell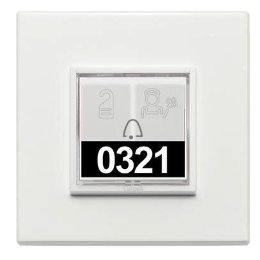 A new stand-alone name label customises the doorbell outside the door, which is compatible with the Eikon, Arké and Plana series. 
In addition to signalling "do not disturb" and "make up room", it also displays the room number.  
It is also a stand-alone motion sensor, suitable for any environment (rooms, bathrooms, corridors, staircases, communal areas) where lighting depends on people passing. 
Signalling Unit
The room status signalling uses RGB LEDs to indicate "do not disturb", "make up room", "guest present", or away statuses.  
Available in two variants, for indoor and for outdoor use, it is designed to perfectly match the styling of the space it occupies. 
For further information please contact Designer Light Switches Australia.