Eikon Exé: Flat and Vintage
From the essence of Eikon Exé cover plates, two new types of control are born: Flat and Vintage. 
These lend to interior design projects an exclusive and bolder identity in accordance with the latest European style trends, with a reimagining of traditional silhouettes with a preference for linear shapes. 
Flat cover plates and controls 
Available both as a traditional light switch or home automation system element.  Flat controls represent the epitome of pureness and linearity.  
Planar and square-shaped controls create a pleasant flush-mounting effect to emphasize the textured appeal of the cover plate. With their matt White, Anthracite Grey brushed Nickel, Brushed Dark Bronze and Gold finishes, an elegant look can be achieved in line with the latest style trends, such as simple silhouettes and clean-cut, elemental geometries. 
Controls with personalized RGB backlighting can be elegantly laser-engraved with icons and pictograms.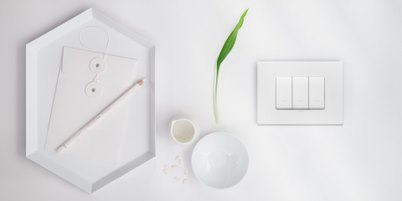 Vintage cover plates and controls 
Vintage toggle switches embrace the mesmerizing lines of the past, restyling them with a modern twist, providing an exclusive, slightly retro style.  
Metal levers are available in different finishes: matt White, Anthracite Grey, Brushed Nickel, Brushed Dark Bronze and Gold. When combined with the Eikon Exé cover plate in the same finish, they offer a matching style, sophisticated yet at the same time pure and linear. Cover plates can be customized with a precise logo, and controls can be elegantly lasered with icons and pictograms to identify all functions. 
For further information, please do not hesitate to contact Designer Light Switches.